Jenn + Nick's Engagement Photography Shoot in Walnut Creek, California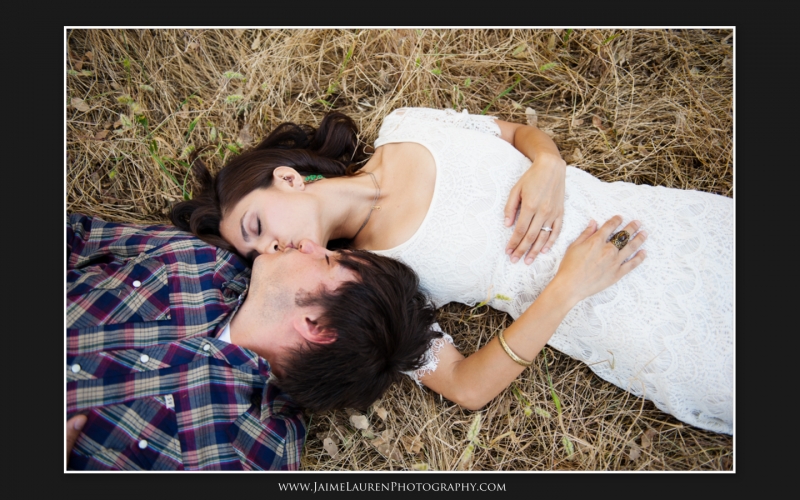 I swear my job keeps getting better and better.  The longer I work at it, the more it becomes a passionate extension of who I am and less of a 'job' per se.  Obviously there are downsides, like this morning's two hours spent putting together my quarterly and semi-annual financial reports, (sounds fancy, but it's really just plain ol' boring and tedious) but really, I can't complain.  As I hone my skills and fine-tune the business, I find myself narrowing my field and creating a niche that suits my preferences perfectly.  One of the best results that's come from the pruning of my photographic style and practice is that the type of couples who seek me out tend to have a an eye for beauty and a penchant for fun.  And how on EARTH could I resist that!?  I seriously wind up with the most fun-loving, genuine, creative couples EVER, and cannot thank them enough.  Just the other evening I was at a mixer for wedding industry professionals in this area and was asked if I ever got high-maintenance brides.  I grinned when asked, because my answer is always no.  I'm sure the brides who book me have their moments when they're tempted to go all Bridezilla on someone, but for the most part, the brides who hire me usually want to make sure they enjoy their wedding day, so once the day gets rolling, they're generally easy-going.
Jenn + Nick, featured today, are one of those couples who show up to a shoot ready to have a good time, instead of fuss about how they look, or care if the grass is itchy or the sun's too hot.  I always try and make sure my clients are comfortable and at ease, but Jenn + Nick were so relaxed about everything that I was able to let my creative juices flow unhindered.  Because I love a mix of subjects and 'stuff', they brought a few props, which were fun to integrate. (I like when clients bring the props as they're more liable to pick something that's sentimental or something that's more their style than I am).   Aside from that, we had fabulous lighting, (I went a few days prior to scout out the location and pick a time) total privacy, and best of all, zero powerlines in the background!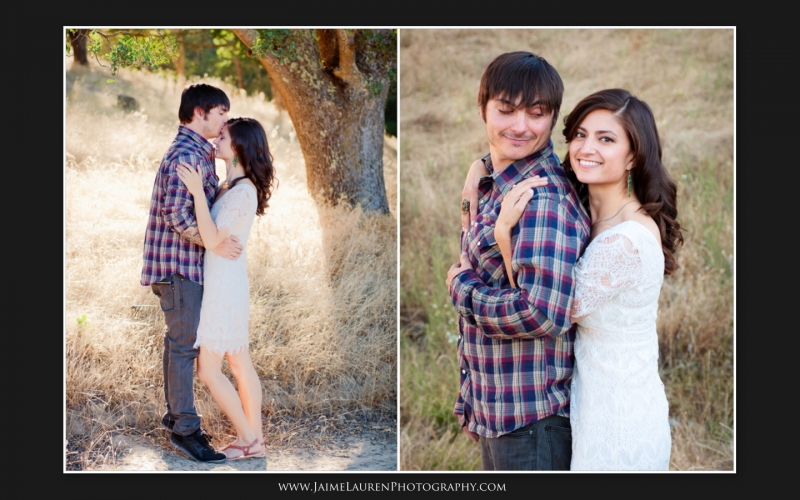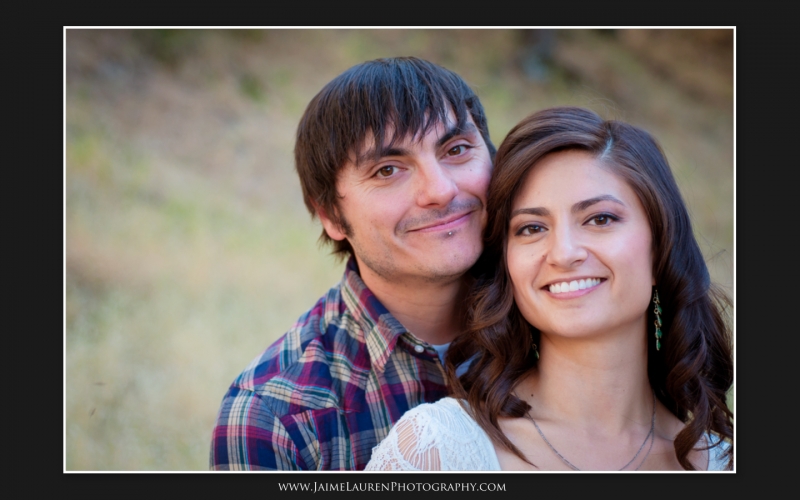 So, any thoughts?  Favourites?  I'm a huge fan of golden light and love shooting at this time of day.  Also, I must say, I loved Jenn's dress!!!  Jenn + Nick, thanks for the amazing shoot…I can't imagine how spectacular your wedding is going to be and am really looking froward to shooting it!
All right, wondering what to check out next?  If you haven't checked out the new look for my website, you can head over there for a peek, (more photos to come) or if you missed my last engagement shoot, follow this link to Liz + Nathan's shoot at the Alameda Naval Base.  Tomorrow is Friday's Favourite and I'll be featuring a personal photo or two from Red Square in Moscow as a tribute to the 450th Anniversary of St. Basil's Cathedral (you know, the one with the colourful onion domes).  If you're wanting to catch up on past Friday's Faves, here's a comprehensive list with all the links!
Don't forget, you can catch all the latest (photography/wedding inspiration, tools, resources etc.) and support Jaime Lauren Photography by becoming a fan (just 'Like the page) at: http://www.facebook.com/jaimelaurenphotography
Have a great afternoon!